What is it?
What we have here is an Audi RS3 with more power than the previous-generation Porsche 911 Turbo.
As it rolls out of the factory, the RS3 hardly seems short on performance, with a thumping 395bhp five-cylinder engine and sub-4.0sec 0-60mph time. But tuning company Litchfield is in the business of making fast cars even faster, and that's exactly what it has done to Audi's mid-sized rocketship.
The headline figure is 500bhp, but the uplift in torque output – from 354lb ft to a massive 484lb ft – almost certainly has an even more profound effect on the way the RS3 slingshots itself along a road. You might be thinking Litchfield's engine-builders must have thrown everything they had at the RS3's five-pot – bigger turbo, uprated exhaust system, reinforced internals. The works.
But, in fact, all it's taken to liberate 105bhp and 130lb ft from the 2.5-litre engine is a remap, a new air filter and a bigger intercooler. That's it. Little wonder Iain Litchfield calls it "one of the best engines we've ever modified".
He says the previous RS3 motor was good but reckons this new unit is on a different level altogether. His theory is that manufacturers are being so hamstrung by emissions regulations these days that the only way they can make their high-performance engines efficient enough to pass the tests while also producing the necessary power is to really overload them with high-end tech, such as high-flow exhaust systems.
Then, they're forced to cork the engines with restrictive maps. It all means that with just a simple remap – and, in this case, a few other tweaks – tuners like Litchfield can very easily uncork them and realise huge power gains.
What this means for the customer is that such upgrades are very affordable; including VAT and installation, this one costs £2058.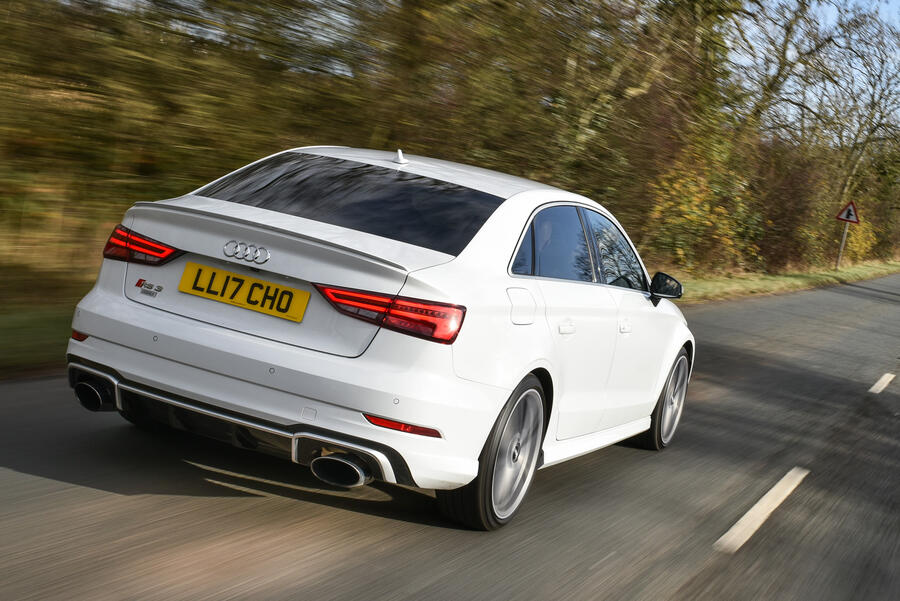 What's it like?
At low speeds, or at a motorway cruise, you wouldn't know this RS3 had been fettled in any way. The engine feels exactly as it does in standard tune, with none of the histrionics or fussy, boosty behaviour you might expect of a turbocharged engine that's producing 200bhp per litre.
But when you wind it up, you're left in no doubt. There is perhaps a little more lag than before, but it's more of a split-second hesitation as the engine draws breath than a fundamental response problem. The boost threshold remains very low, too, just as on the standard car. From 2500rpm it starts pulling and from 3000rpm it lights up, exploding right the way around to the 7000rpm redline.
There's so much overtaking performance now – thanks also to infinite four-wheel-drive traction and the whip-crack dual-clutch automatic gearbox – that you needn't ever get stuck behind a slower vehicle again. Running the standard Audi exhaust system, the RS3's soundtrack is rich and distinctive without being unnecessarily loud or boisterous. You're well aware, too, that what lies beneath the bonnet isn't merely a five-cylinder engine.
What of the rest of the car? Litchfield has left the chassis alone – for now, at least – and if you can accept that the RS3 will never be as intoxicating or as challenging on the limit as the rear-driven BMW M2, for instance, there is an awful lot to enjoy about it.
It feels much better balanced now, with less inherent understeer. The steering is sharp and direct, while the suspension is more compliant than it was on the previous RS3, which means the car feels fluid and composed on a bumpy road rather than skittish and uncomfortable.
Elsewhere, the minimalist cabin is attractive and the material quality is very good, while the exterior styling strikes a neat balance between aggression and subtlety. All things considered, the RS3 – especially with 500bhp – is a very appealing daily driver indeed.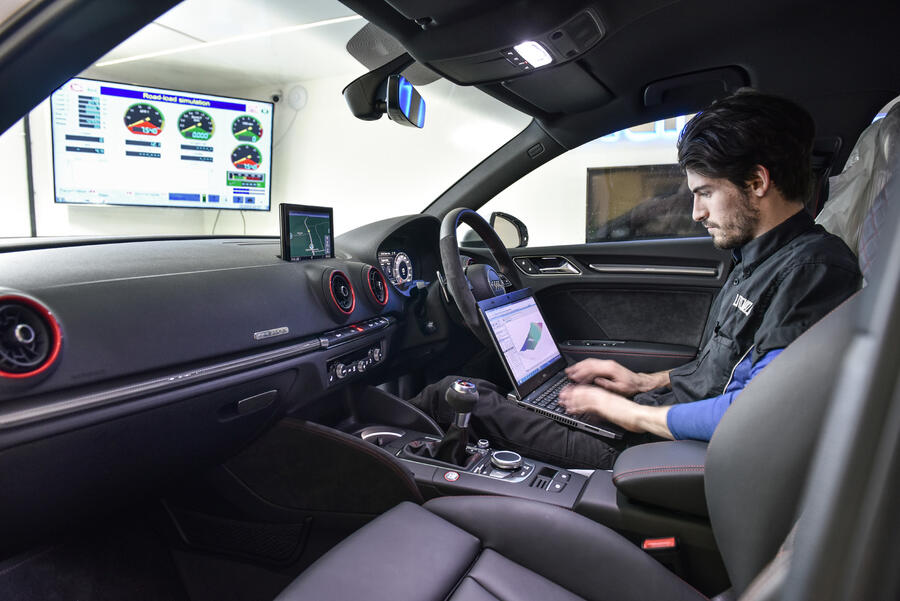 Should I buy one?
If you want to make your RS3 as accelerative as a 911 Turbo, yes, you should. There is a caveat, though; upgrades like this one will void your manufacturer warranty. If you're very protective of your warranty, then, perhaps it'd be best to let it expire before you pay Litchfield a visit.
That being said, the upgrades are entirely reversible and Litchfield hasn't yet had any run-ins with Audi's warranty department. And, as attested by the number of new car owners who remap and tune their cars straight from the showroom floor, some people just aren't bothered. For them, Lichfield's upgrade is a no-brainer.
Litchfield Audi RS3
Where Gloucestershire On sale Now Price £2058 for remap, intercooler and air filter, installed Engine 5cyls, 2480cc, turbocharged, petrol Power 500bhp at 6430rpm Torque 484lb ft at 4070rpm Gearbox 7-spd dual-clutch automatic Kerb weight 1515kg Top speed 180mph (estimated) 0-62mph 3.5sec (estimated) Fuel economy na CO2 na Rivals BMW M2, Mercedes-AMG A45